Per chiunque abbia un benchè minimo interesse per il mondo del cinema, sa che esiste una controversia inerente al rapporto critica cinematografica e popolarità.
Ovvero: perché i film più maltrattati dai critici sono i film più amati dal pubblico, mentre i film apprezzati dalla critica non sempre incontrano il favore del pubblico?
Non è facile rispondere a questa domanda (nel senso che ognuno ha la sua risposta), ma un buon approccio potrebbe essere una verifica empirica di questa affermazione.
Ovvero: quali sono le caratteristiche dei film che piacciono ai critici e quali le caratteristiche dei film che hanno il maggior successo al botteghino?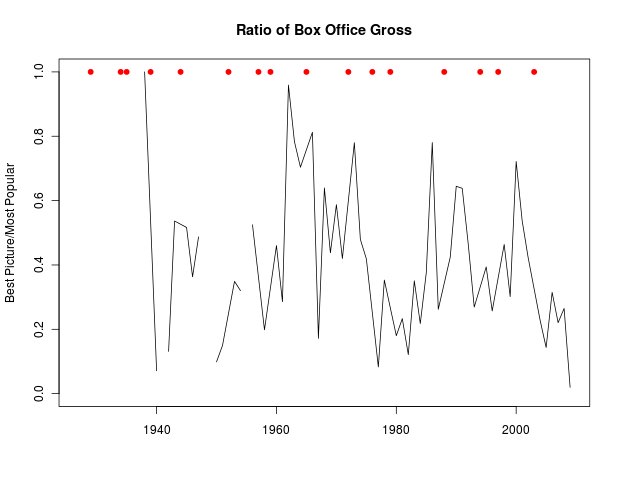 E' quello che hanno fatto William Briggs e John Briggs dove hanno comparato i film che hanno vinto l'Oscar per il miglior film con i film che hanno ottenuto il miglior successo al botteghino.
Interessantissimi i risultati:
The Most Popular picture routinely made about twice what the Best Picture took in, and there is good evidence this trend is increasing.
Many pictures had only men in the lead and no women.
Women over 40 are rare, and over 50 virtually non-existent, while older men show up increasingly frequently.
Best Pictures usually had older actors and actresses than the Most Popular movies.
There were fewer comedies for Oscars, more Action & Adventure for Most Popular flicks.
Se volete saperne di più, vi consiglio di leggere il lungo e dettagliato post.
Sicuramente non risolve la questione, sicuramente la relazione è spuria, ma è un ottimo modo per affrontare la domanda, oltre ad essere un interessante tentativo di scienze della cultura computazionali (avrò modo di scrivere su questo tema)
[Infopusher: Flowingdata]