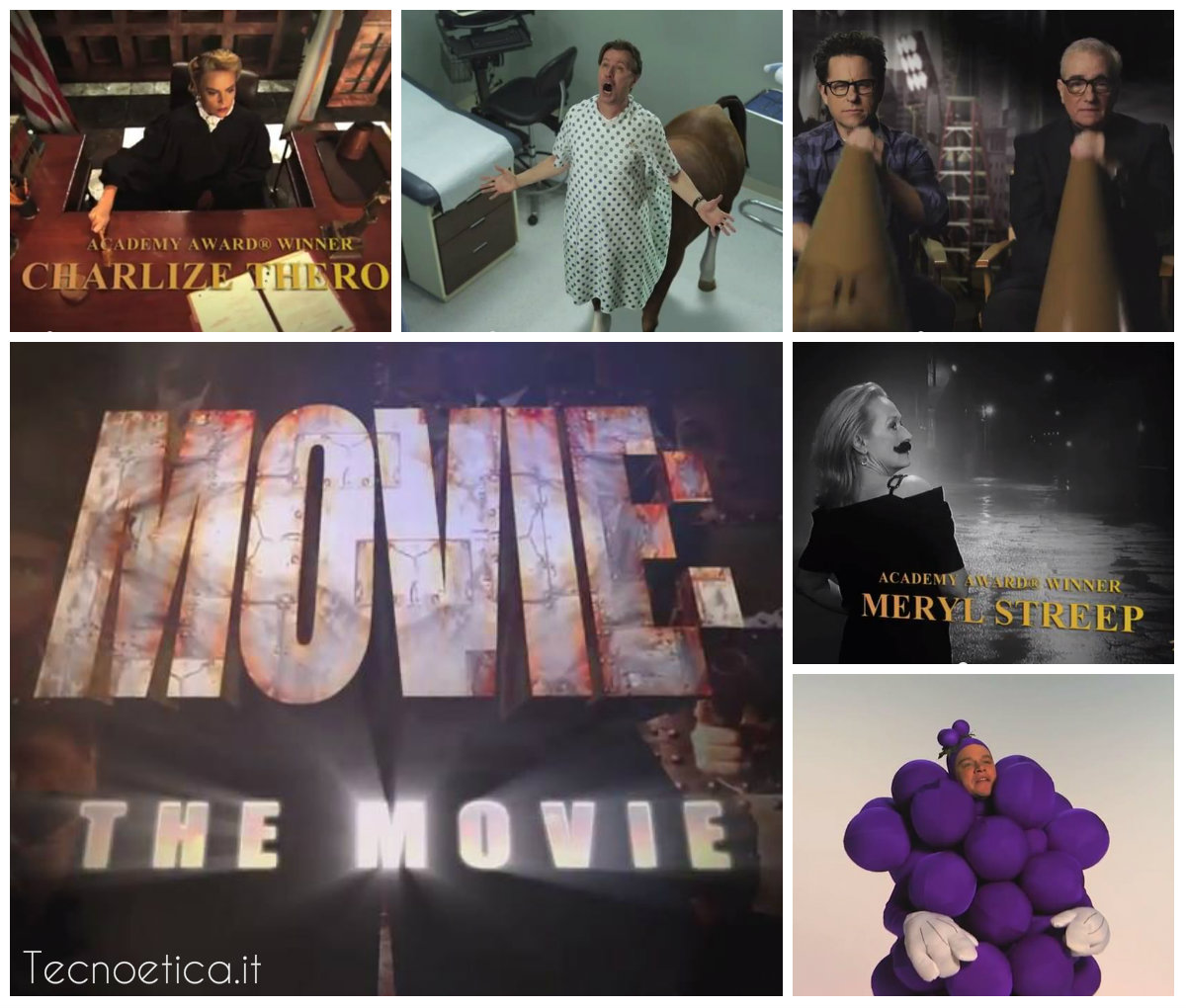 Estate, tempo di blockbuster: ormai anche in Italia.
In questi ultimi mesi la programmazione cinematografica è piena di superfilmoni come: Pacific Rim, Wolverine l'immortale, Now You see me e così via dicendo.
Gli ingredienti di questi film sono quelli classici dei successi da botteghino: cast stellare, sceneggiatura al fulmicotone, effetti speciali a bizzeffe.
In pratica tutta roba per palati da appassionati di cinema come me e non cinephìle.
(Dialoghi? qualcuno ha detto dialoghi? Che diavolo di dialogo serve con un robottone di 40 metri?)
Alla lunga però questo tipo di cinematografia può risultare indigesta, pertanto è bene prendere in giro alcuni clichè di cui questi film sono pieni.
E come?
Il film che ha come regista  J. J. Abrams e Martin Scorsese
Il Jimmy Kimmel Live è un programma sullo stile del David Letterman Late Night Show, in cui in una struttura da talk si alternano personaggi celebri del mondo dello spettacolo con sketch e battute molto divertenti.
Uno degli sketch più divertenti in assoluto è "Movie the movie" (andato in onda nel 2012) in cui una serie di grandissime star del cinema americano si prestano ad una esilarante parodia delle trame di alcuni blockbuster con gli attori che fanno la parodia di se stessi imprigionati nei ruoli che li vedono tradizionalmente protagonisti.
Alcuni nomi? Edward Norton, Antonio Banderas, Tom Hanks, Jeff Goldblum Gary Oldman, Cameron Diaz. I registi sono J. J. Abrams e Martin Scorsese (che appaiono nel video), mentre il produttore è Michael Bay (presente con uno dei suoi Transformer)
Il video è strutturato come un trailer con tanto di voce fuori campo. Godetevelo.
Poteva un colossal come questo non avere un sequel? Certo che no.
A febbraio 2013 – periodo degli Oscar ovviamente –  Il Jimmy Kimmel Live ha mandato in onda il sequel dal titolo "Movie the movie: 2V".
Secondo me non è brillante come il primo, ma è lo stesso molto divertente, con un cast all'altezza (quasi) del primo.
Io mi sono divertito da morire: e voi?